Harpsicle Harps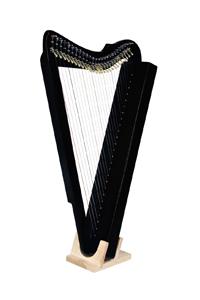 Above: Fully levered Fullsicle from Harpsicle Harps
Perhaps you have always wanted to play the harp? That's the first line you read in Harpsicle harps website. They´re a division ReesHarps.com (specialized in concert harps)
Well I've always wanted!! It was a childhood dream to me... It always looked a bit out of reach and too expensive for me. Then of course you could find a cheap Pakistani harp or middle eastern import.. and they may look so pretty, even engraved.. but don't fool yourself, after asking the advice of my friends harp players that actually know what it's playable or not, they told me to run away from this harps that are only "ornaments" and that will most likely will bring only dissatisfaction after a little while with low quality levers and materials, something that instead of a bargain will end up in your attic or wall getting dust. Harpsicle though are made in Indiana in the United States with fine materials and craftsmanship. They can be purchased from a lot of specialized stores and harp centers worldwide.
So you still want to play the harp, but you cannot afford a fortune in one (not that there aren't many lovely brands out there) but one that sounds and looks good enough to be your first harp (maybe even your forever harp)? That is how you may finally stumble upon (by so many user reviews and recommendations) in Harpsicle harps. And thus I'm waiting for mine... ! I'll update this article soon with pictures of it... so excited to be able to create music with it, and I've proved that the sound quality is great for studio work too!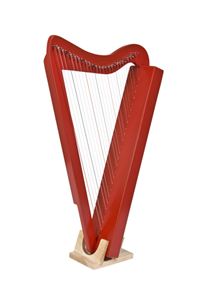 Above: Harpsicle harp.
Harpsicles are well designed, sturdily built and have the correct string spacing which make them an excellent selection for a first time harper. Light and portable, they are also a wonderful choice for harp therapy practitioners and are recommended by many harp therapy programs. These simple harps have nice volume and tone. Harpsicle Harps are well made and maintain tuning as well as any professional harp.
Available in ten colors (for the fancier customers, but also in elegant black or natural wood). Children might prefer to have magical colorful first harp for princesses or little BardsThey come also with straps buttons included so you can easily hold it when performing or even marching. With 26 strings and a range of 3 1/2 octaves and as small and light (four pounds) as to put it in a soft bag and make it follow all your steps carrying it everywhere (for performers like me it's a good thing to know that Harpsicles Harps fit in the overhead storage bin or garment closet of most airliners)
You have models with no levers at a really very affordable price to fully levered models. It is important that you decided this first, as the harpsicle harps are not built ready to install them afterwards.If you are intending to change the tuning on stage you better opt for the levers. Most traditional music does only require a few accidentals and thus several options are offered. You also have the option of having an internal electric pickup installed so that your Fullsicle™ Harp can be played directly through an amplifier.
Harpsicle: Basically the range goes from the basic Harpsicle with no levers (like renaissance harps) for music in C and A minor key.
Sharpsicle: With sharping levers on the C and F strings. This allows the harp to play in 6 different keys (C,G,D major and A,E,B minor) without retuning.
Flatsicle: sharping levers on the C, F and B strings. This allows the harp to play in 8 different keys (C,G,D,F major and A,E,B,D minor) without retuning.
And Fullsicles (fully levered)

Above: fully levered fullsicle
They also feature some accessories like pickups, stands, instructional dvds for the newcomer to the instrument and more... Everything you may need to get started!
But overall you're dealing with a small company of crafters that seek the greatest quality and will respond friendly to any question or doubt you may have to chose your harp.
But if you need a harp with more range and still light weighted (only 10 pounds) you still have the option to get the 33 strings Grand Harpsicle.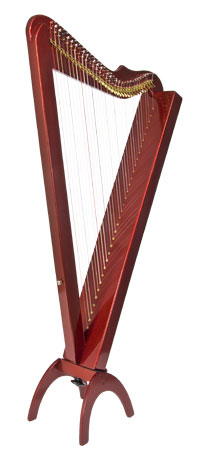 33 strings grand harpsicle

UPDATE: I got my FULLSICLE!! It is so pretty and it has such a clear lovely tone :). Pickup already installed in it tested and working great and totally addicted to it. It's so small and light! Love it! Below there's a pic of me as the lucky owner of one (thanks to Harpsicle/Rees Harps) for the semi-endorse :)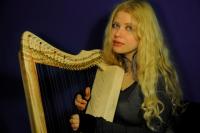 Above: me with my fullsicle