Hevia Electronic Bagpipes: Midi, versatile and portable bagpipes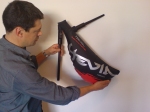 Hevia is a world wide known bagpipe performer (Celtic Folk) from Asturias, Spain. He has launched his own trademark electronic MIDI bagpipes. The cool of thing of them! they're portable and easy to travel with (fitting as aircraft hand luggage so you don't have to risk it) and also they have all the versatile functions of the MIDI so you can make it sound virtually as anything you could imagine. You can read more at the official website of this bagpipes at:

Right now they come with custom software with ready to go sounds (including samples of several European bagpipes as well as other instruments) that works in MAC computers but they're developing it for the use in PC and Windows systems shortly. Bagpipes have a midi controller and can work via USB or bluetooth autonomous up to 25 meters, and will sound through the speakers of your computer system. What does it mean? that if you're a happy piper that likes to perform all day but your neighbors hate you and menace to kick you out of the building... yay, you can do cool things like lowering the volume of your instrument and of course make it sound like a completely different thing with VST (virtual instruments) or any sound from your sampler. Below you can see a demonstration and also how small it is packaged and folded to travel with. Cute huh?
Provided by capacitive sensors. the instrument allows hyper-realistic interpretation. Also the fingering fully customizable by user.
The price of the new Hevia Electronic Bagpipes MBS 300 is 1.999 euros + 18% VAT (depending on the country) + shipping expenses. If you are interested in purchasing a set you can write directly to their email info@heviaelectronicbagpipes.com and ask them for more information or how proceed with the payment.
My only complaint remark is that the trademark is printed a bit too big in the instrument, a more subtle trademark would have made it a bit more elegant, still I'd not mind to have one, snif! :)