Tribal Thunder
Oscar De Los Santos is a noted Artist, poet, inventor, and musician, as well as the youngest recognized Elder within the Six Nations Community and Medicine man. He is also the creator and author of The Warriors Roadway, and the founder of his own company called Tribal Thunder that makes handcrafted percussion, drums and wind instruments. From native american flutes to Indian Tabla there are a wealth of items to find your own rhythm, to enjoy, to spin, to play, to heal with it. he really does show the spiritual value of his craft.
Oscar is also the inventor of their popular Oscar Steel-tongue Drum, their own trademarked hank drum. I own an Oscar and I love it, my model has six notes but you can find models in different keys up to 8 notes. It has a lovely bell sound and very soothing and relaxing.

Above: the Oscar Drum, their most popular item in its standard and Slim model.
They make a collection of handcrafted drams, from djembe, to bodhrans and tabla. I'm going to highlight some of the ones I find more outstanding (and that I crave for LOL!)
I'll highlight the Ashiko Pony Drum: Named after the celtic Horse goddess Epona is a Tribal thunder special design, an hybrid drum mixing the qualities of the Ashiko and Djembe. The drums are built like the Ashiko (pine staves) but are somewhat shorter with larger heads (like a Djembe). The large head and small throat make for an incredibly powerful sound! The rings for this premium drum are leather wrapped and there are more ties for greater stability and balance in the head. Must be heard to be believed! I certainly would love to grab my hands around one!!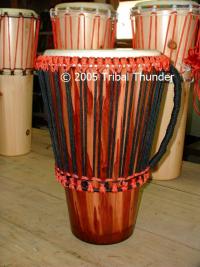 Above: the gorgeous Ashiko Pony drum
They also have smaller percussions and drums like this one: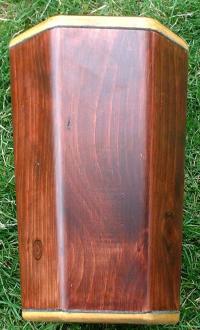 Above: Small and portable dorskin drum (as all tribal thunder instruments) handcrafted
They also make other really interesting things... I have this lovely wind talk band... it sounds like Australian bull roarer but they´re very much more in control and you can even can change the pitch. All you have to do is to spin it and a storm-like roam will chant similar but different to the didgeridoo (which by the way they also sell)- It can make two harmonics depending on the angle used, I use it a lot to chant and meditate, shall upload a video using it as soon as possible.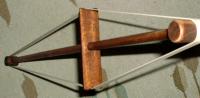 And also flutes!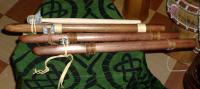 Be well Angel you are well Loved
Peace and Joy be with you!
Oscar de Los santos (aka. Oz)