Schatten Accoustic Pickups
Schatten Design's is a company based in Canada largest manufacturer of pickups, transducers and other technical material for string and folk instruments. The company is continuing quest to build the finest pickups, preamps, and related accessories in the world and has produced a line of products that Listening to their customers, as they always have, has helped to provided us with a greater insight into the types of pickups and products that are needed. Schatten is not only devoted to guitars and violins like the most of the companies (though of course they do as well) but also provide solution to like hammered dulcimer, Bouzukis, Mandolins, Mandolas, Celtic harp, appalachian dulcimer and even autoharp!!. They are not generic pickups, but fine and quality work specific items meant and designed to achieve the best sound out of specific and unique instruments.
They also have some generic pickups that you can try and experiment with. Basically, if you have an acoustic instrument with a soundboard, then the Dualie will work well on it. I ended up using a dualie to trigger midi sounds as a drum pad played with my hands just for fun. What started like fun is going to make me get a few more of these soon! :) It's worked great also on some plucked psalteries too. But It's one of those things you need to try out (and of course works well on guitars as well).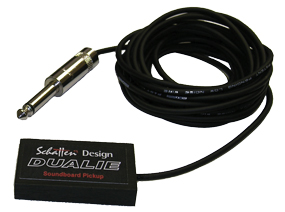 Above: Generic Dualie pickup. Experiment with it!
With a clear sound and non intrusive to the instruments, the pickups are easy to install and achieve a great sound on stage, with no feedback and great comfort. I use a pickup in my Baritone dulcimer. No drills, no holes, easily attached (literally a couple of minutes) with the puty that comes along with the package (that by the way does remove cleanly as well from the wood when you want to take it out as it's a bit conspicuous over it (thought definitely quick to install and elegant) The D-3 Std is specific for this instrument and it works well in standard and also in larger baritone dulcimers rendering a great sound and tone.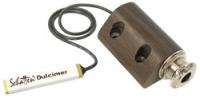 Above The D-3 Std for Mountain Dulcimer
I'm a happy user myself, and I couldn't consider to use a microphone on stage on my hammer dulcimer ever more after testing the comfort and the sound of the specific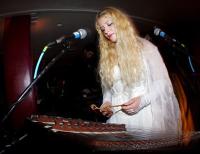 me playing a hammered culcimer with a HD2 pickup
Due to the size and construction of hammered dulcimers, the best balance and accuracy of sound reproduction could only be achieved by using a "dual element system" with two separate transducer sensing units. The HD2 pickup system mounts quickly and easily to the underside of the hammered dulcimer with supplied double sided tape. To plug it to a PA on stage is recommended a DI/Preamp and Schatten is also provider of one of the finest dual channel Ultrasound DI/Preamp units that have been tested successfully with Schatten pickups and thus combine so perfectly with them. No more feedback on stage!! As a singer putting a microphone for the voice and another for the instrument (and in only one of the bridges) was always not only distracting when playing but also a nightmare risking feedback or hitting them with the hammers.... and sound as good as with a live mic. Using the HD2 suddently made it so EASY!! that I cannot help to recommend this if you play this instrument. I struggled a lot to find a versatile, comfortable, easy and "discrete" looking solution, and I cannot be more satisfied.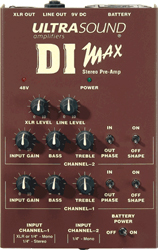 Above: Ultrasound DI/preamp extensively tested with Schatten pickups to plug your instrument to the PA system.
No more mis-matching impedance issues going into a 'strange' sound system. No more weak output and signal line-loss issues due to the length of the mixer cables. Adn I tell you It works great also as a preamp for your home studio!
So what can I say? I'm intending to grab a few more dualies and test them elsewhere, and I have a wish list for my cello player and my kantele... Great quality works great as easy as that!