The Array Mbira
The Array Mbira is a glorious hand-crafted custom made modern musical instrument with a harp or bell-like sound. It is made in USA by their inventors Bill Wesley and manufactured by Wesley with Patrick Hadley in San Diego, California, United States. It is based upon the African mbira or thumb piano (also called kalimba or which is native to Zimbabwe but the array mbira is bigger in size and meant to play with all the fingers of your both hands like a "piano". It reminds me very much to the sound of a music box.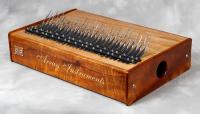 You can read the wikipedia article about the array mbira to get an idea about how the notes are arranged
Bill Wesley, musicologist, performer and author, invented and developed the array system, following a logical tone configuration based on the circle of fifths.The Array system of organizing the notes is similar to the system for arranging the buttons of the stradella bass system on an accordion. Here you can download in PDF the array of notes. Octaves are in the same column, and it has a top guide to tell you the notes too, so seems quite gentle for the newcomer.And in the official site they encourage it as very easy to get started with. On their words no other instrument may be learned so easily initially or be subsequently pursued to such an advanced level of performance.
Most of array Mbiras are made to order though you can find some already to ship instrument with a "buy now" buttom. If not available it takes 3 to 4 months for completion. There are models from 3 to 5 octaves.If you want something to custom they're also welcome you to contact them for so. To purchase one visit the Official site here at The Array Mbira
Here you can see "Carol of the Bells" performed by an Array Mbira. Sweet! Don´t you want one? I DO!
Here you can see some offficial uploads into youtube they have as tutorials in their site. they also have some small videos and a DVD to learn to play the Mbira on sale.
As I always say, there´s nothing like the real instrument but on the waiting or while you can´t afford it, there´s a company that has sampled a 5 octave Array Mbira VST (Virtual Instrument) at Soniccouture for 69 Eur. It won't sound the same or look the same on stage but might kill the craving for the instrument till you become able to grab one ! :)
Above:Soniccouture Array Mbira VST